Latest Scenes
Top Scenes
Based on ratings, hearts, clicks, sales, age, and other factors
$5.99

Cheerleader eRica is punished for selling spoiled chocolate at the last fundraiser Cheerleader eRica tried to cut cost by selling spoiled chocolate bars at the last fundraiser. What kind of punishment will she receive for disregarding people's heal...


Starring:
$5.99

eRica tries to remove a cum stain with the "Sonic Shower" eRica has been hired to demonstrate the new" Sonic Shower"! It uses sound waves to remove stains from your clothes while you wear them. To demonstrate the device she needs to find a stain....


Starring:
$5.99

1 review!
eRica gets pied and covered in maple syrup in her Adidas Chile 62 outfit. eRica is on a local TV quiz show. All she has to do is answer 3 questions correctly to win $10,000. Will she get the questions correct or is the show rigged? This video fea...


Starring:
$5.99

1 review!
Cheerleader eRica gets a facial "desert topping" and is forced to take a pie! This is part 6 of the "Head cheerleader eRica is held for ransom" series which can be found on my website. Head cheerleader eRica has been captured by a rival fan attemp...


Starring:
Reviews
Sent by real customers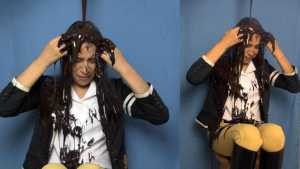 Great gunging!
This is a great gunging. The chocolate syrup first was great, and the maple syrup complimented it nicely. Awesome hair coverage, and I also love the absense of a facial and pies.
-
GungedHairFan
3/11/17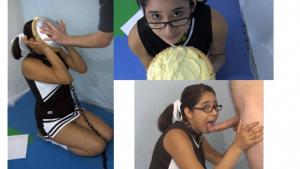 FUCKING BRILLIANT.
I was very pleased with my purchase as, without knowing, Erica caters to my three biggest turn ons; messy play, facials and costume play. I can guarantee that I will be making further purchases from her regular store and not just her messy stuff.
HIGHLY RECOMMENDED.
-
wam_tasty
4/9/14

Our Other Site